As the holidays approach, it seems everyone wants a gift that is both thoughtful and easy on the wallet. DIY gifts are a great approach because they add a homemade touch, allowing your personality to show while also being budget-friendly. The following are five customizable gift ideas for anyone in your life: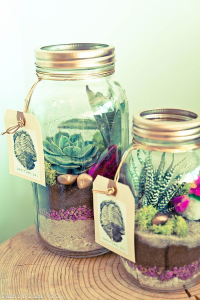 Terrarium Jar
This may be a great gift for your ultra-trendy sister or chic best friend but nonetheless, a terrarium jar is adorable for the home decor fanatic. Start out with a layer of crushed quartz for the bottom of a medium-sized mason jar. Then, add a couple smooth river stones on the next layer followed by sand in your color choice. Finally, finish off with a layer of floral moss and some bigger gemstones like fluorite. To bring it to life, add an air plant. No need to water it or add soil, all these guys need is air. All together this project costs around $15 and takes 25 minutes. (Source: Storyboard Wedding)
Sugar Scrub
Probably one of the easiest DIY projects out there, a sugar scrub is a perfect gift for someone in your life that needs to be pampered. To start heat a cup of virgin coconut oil for 20 seconds in the microwave and add to two cups of white sugar. Mix well. Then, add an essential oil of choice. If you would like to do a holiday-themed scrub, add a couple drops of peppermint, as well as a couple drops of vanilla extract. Then split the mixture in two, adding red food coloring to one bowl and leaving one plain. Finally, spoon the mixture into a jar, alternating colors to give the candy cane effect. (Source: Cincy Shopper)
Grill Master Gift Set
Here is an original idea for your dad, brother, significant other, or whoever the grill master is in your life! All you need to do is pick up a few grill utensils, and the rest you can make at home! For barbecue sauce, I recommend looking online for a knockoff recipe of your favorite restaurants sauce. My personal favorite is Rudy's Bar-B-Q Sause, or better yet try this copycat recipe online. Finally add a dry rub, and you are done!
Photo Magnets
For a nostalgic touch, photo magnets are easy and add a personal element. Go to a print store first to get uniform square pictures small enough to fit on the refrigerator (Mpix.com is one suggestion for online photo print orders.). Then, add a couple of thin coats of Mod Podge to the top of the picture. Let dry. Take a thick foam board and an x-acto knife and cut out the foam to the size of your pictures. This may take a while, but to make it go faster do not cut out the foam to perfection. Cut a little bit bigger to give the photo a framed appearance. Use Mod Podge to apply the photo onto the foam board. Lastly, cut a magnetic strip into a small piece and apply to the back of the foam with more Mod Podge. You can also use pre-cut magnets for this. Let dry completely and there you go! (Source: Photojojo)
Personalized Mug
This one is a super simple less-than-10-minute kind of DIY project. Take a light colored mug, and draw/write whatever you please onto the mug with a porcelain marker. And, voila … you just designed a mug!